The first Whirlybird Little BIG FUN Festival was created as part of a 5 day celebration and exploration of South Louisiana and Acadiana culture.  First, we had already planned for 30+ cultural enthusiasts from Vancouver, British Colombia to join us for the "Highly Motivated By Fun Excursion".  Then, it became obvious how to include our friends and neighbors.  Come, join us for 4 nights of Big Fun and dancing at The South's Premiere Underground Honky Tonk.
The Whirlybird and The Highly Motivated By Fun Excursion invites you to join us for the Big Fun.  We have an amazing line up.  Check it out!  And – it is all happening AT THE WHIRLYBIRD! Come help us celebrate our meaningful and exciting lives in Acadiana.  $10 Tickets per event will be available on EventBrite and "At The Door".  Click on the the titles below for EventBrite tickets.  Come once, come twice, come three times, come 4 times – multiply the fun!  It may be little, but it's BIG FUN! Tuesday – Friday, Jan. 15 – 18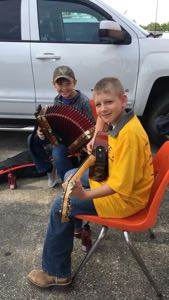 Jace Goulas and Reed Patin, the hot young Cajun musicians everyone is talking about, open the show/dance/Cajun Music Workshop with a hot set (We are so happy to have these guys, because it's a school night).  Jace and Reed both play with a variety of up and coming young Cajun musicians.
Then T'Monde takes over:  Three remarkably accomplished young musicians come together in T'Monde, the Acadian phenomenon that Offbeat Magazine has called "a creative fusion of classic country and out-of-the-way Cajun." With a combined 10 GRAMMY nominations between members Drew Simon, Megan Brown, and Kelli Jones, T'Monde brings influences ranging from early Country music to ancient French and Creole ballads to present day Cajun music.
Born out of friendship and a shared love for the music, T'Monde has developed a unique sound that is unmatched in Cajun music today.  With their latest album, " Yesterday's Gone", the band showcases their influences and musicianship which makes their sound so special.
The Vidrines and Their Fantastic Musical Friends will take you on a Louisiana Cajun music journey spanning generations of French ballads, songs, two-steps and waltzes. John & Jane Vidrine have been sharing with family and friends South Louisiana tradition to the core for over 30 years.
John, unfortunately, will be out of town this evening.
Nevertheless, for the first half of the evening, Jane Vidrine will be joined by long-time friend and music partner, Ann Savoy.
Their vocal duets and haunting old ballads will help you understand a lot about the soul and the history of Cajun culture.  Enough cannot be said about these two individually or as a duo of cultural power.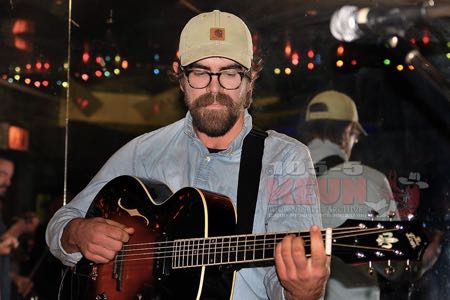 Then, Jo Vidrine and four-time Grammy nominated David Greely will join Jane and Ann, sharing some tunes with you.  There will be stories from Jo of growing up in the musical Vidrine family and Cajun community, and stories from David of the rich souls who kept this music and language alive.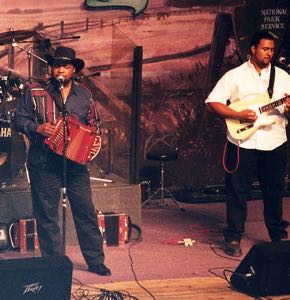 Preston Frank's 2003 CD, titled Preston Frank and Family: Born in the Country, gives listeners a generous helping of a rare commodity these days: real Creole music, with deep roots in rural Soileau where Preston Frank was raised. His own song, the title track "Born in the Country," a tribute to the Creole life, sung in both French and English, has received a lot of airplay on Southwest Louisiana Zydeco shows.  Every time I listen to the clip below, I can't help but get up and shake what my momma gave me around the kitchen.  Come on and shake what your momma gave you.
"Zydeco and Creole music in Louisiana can be traced via the family trees that pass this music down from generation to generation. That's multiple generations of ground-breaking musicians that went into developing this music and that continue to push its boundaries today. In Southwest Louisiana, the Frank family is one of the best-known Zydeco and Creole music families, and rightly so.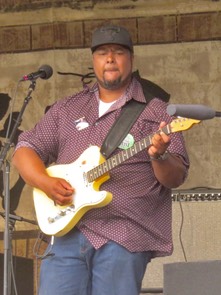 "Keith Frank rules the Zydeco dancehall circuit with this dance-friendly Zydeco anthems and reputation as the best of the best. But he comes from a family of Creole musicians with strong ties to the tradition. His father, Preston Frank, is one of the elders of today's Zydeco music and has lived his life situated at the locus point when Creole music became La-La became Zydeco in the 1950s."  – from Interview by Devon Leger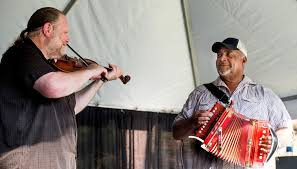 Kevin Wimmer has performed frequently with Dewey Balfa and learned the essence of the tradition directly from him.  Over the years he has performed most notably all over the globe with Preston Frank, Balfa Toujours, the Red Stick Ramblers, Steve Riley and The Mamou Playboys, Ann Savoy, Chas Justus and The Jury.  His fiddle and powerful vocals bring a unique Creole influence to his Louisiana repertoire.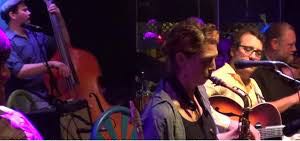 Dan Willging wrote in the OffBeat, "When the reign of the western swing-centric Red Stick Ramblers ended and the next-gen band the Revelers launched with a completely different format, there was a void. Hence, the impetus for Chas Justus' Jury, comprised mostly of Red Sticks and Revelers plus fiddler extraordinaire/RSR alumnus Kevin Wimmer."
Chas Justus & The Jury is not limited to swing or Red Stick Ramblers alumni.  Every genre that has deep soul and high energy will be explored.  Of course, you never know who sits in with The Jury to help transform the band into THE top group for the genre being explored.   Chas Justus & The Jury will close The Whirlybird Festival 2019 on Friday evening, January 18th, 2019, giving the "Highly Motivated By Fun Excursion" a send-off they will never forget.
As my Mom would say about Chas Justus, "Bless his little heart."  The song below, written, played and sung by Chas and friends, still gives me chills.  And, I'm gonna change what my Mom would say to, "Bless his Big heart."